Flooring is an essential aspect of any home makeover. It's a difficult decision to make when installing new flooring in your home. Pricing, colors, patterns, durability, installation costs, and many other factors influence the decision. Look no further if the decision-making process has gotten overwhelming.
Here's an overview of the most popular types of flooring found in homes, along with their benefits and drawbacks.
Ceramic Tile Floors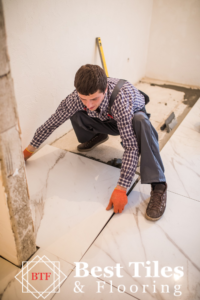 Ceramic tile is a popular choice for flooring in bathrooms, kitchens, laundry rooms, foyers, mudrooms, etc. Ceramic floor tile is safe for homes with dogs and children, and it won't scratch or show wear in your hectic life.
Ceramic floor tiles are easy to clean and resistant to germs and bacteria, ideal for any family home. Ceramic tile is readily available in stores.
Keep in mind that exposure to sunlight may cause damage to ceramic tile, causing the color to fade over time. Its smoothness makes it slippery when wet.
This non-conductive flooring material is less likely to regulate the temperature in chilly climates. For lengthy lengths of time, it isn't the most pleasant flooring.
Mosaic Tile Floors
Mosaic tiles are more of a fashion statement than a practical substance. A mosaic pattern type of tile comes in ceramic, porcelain, stone, or glass materials. The tiles are usually small to make the most of the design. The materials can combine as porcelain tile with glass tile accents to give the mosaic pattern additional dimensional depth and elegance. A mosaic technique allows you to create an infinite number of colors, patterns, and motifs.

You may use mosaic tiles on both walls and floors, and because the surface does not become slippery when wet, they are an excellent choice for wet areas like kitchens and bathrooms. You can use mosaic tiles to create stunning art on the walls of some homes with an artistic bent, such as a niche bathroom shower area, kitchen backsplash, and more. Kitchen mosaic tiles are available in various colors and patterns so that you can select them according to your preferences.
Porcelain Floor Tiles
Porcelain is a type of ceramic tile that is more durable, harder, and water-resistant than conventional ceramic tiles, which are already long-lasting. Porcelain floor tiles can be brittle, and they share some of the same disadvantages as ceramic tiles, such as their heavyweight, coldness, and hardness underfoot.
Vinyl Plank or Vinyl Tile Flooring
Luxury vinyl plank is an economical and easy-to-clean flooring alternative. It retains heat in lower conditions and resists damage. Waterproof and stain-resistant, vinyl flooring is easy to clean.
Many renovators choose a luxury vinyl board because it looks like natural hardwood. You can have the same warm, timeless aesthetics for far less.
It is straightforward to install and can be done by yourself to save money. Before installing a luxury vinyl plank, ensure the floor is level; otherwise, the pieces may pop out. No underlayment is needed for a luxury vinyl plank, saving money.
Although vinyl floor tiles are easy to install, it is more prone to gauge and dent. Poorly maintained can age. Also, the chemicals used to manufacture this material can be toxic in rare cases.
Hardwood Flooring
Hardwood floors are an excellent investment since they are durable and timeless. It's adjustable and comes in various neutral hues to help tie a room together.
Hardwood is an excellent insulator, and it's easy to clean and doesn't trap dust. Hardwood floors may be sanded and refinished several times, and Maple and white ash are among the woods and finishes.
Hardwood flooring is beautiful but expensive to install. Incorrectly installed hardwood may bend or pop, and never use hardwood in wet places like bathrooms or laundry rooms. Despite its fragility, it is a great home alternative.
Laminate Flooring
Laminate flooring is a popular alternative to hardwood flooring because it provides a similar look for a lower price. Nails and glue aren't required because the flooring snaps together, and Underlayment of wood is necessary to put it over existing flooring. Laminate wood flooring is easy to clean, sturdy, and comes in a wide range of colors and designs to match your existing furniture.
While laminate is water-resistant, it is susceptible to water damage and should not be used in wet regions. Due to its lower cost, laminate does not have the same resale value as hardwood. It cannot be sanded or refinished like hardwood and may need to be replaced. It can also emit chemicals throughout the manufacturing process.
Conclusion:
The floor is a prominent aspect of your home's beauty and perception. A lavish or rustic floor can make a property appear larger or smaller. This article compares and contrasts several flooring solutions. You can choose between rustic wood floors and beautiful marble floors. Examine these flooring options for their care, textures, aesthetics, and longevity, and pick the best for your home. Our online tile store helps you spot the differences to obtain the style you desire.